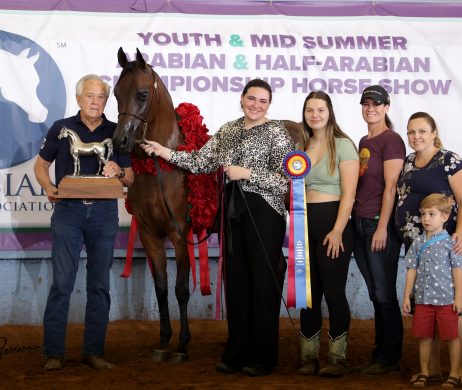 Teamwork makes the dream work!
We would like to congratulate our clients on their amazing Midsummer National results and thank you for your continued support and trust!
ARIA LACROIXX
National Champion Yearling Sweepstakes Colt
(Delacroixx x La Belle Shawan)
Breeder: El Shawan Legacy Partners
Special Thanks to Jeff Sloan and team Sahara
Congratulations to Apire Arabians on your purchase of LaCroixx.
Wishing you and Andy Sellman much success.
JR FRANGELICA
Unanimous National Champion 2 year old Filly
(Kavalle MI x JR Francesca)
Breeder: Joanne Gunabalan of JRs Dream Arabians
ROMANCE MI and Chloe Kehl
National Champion Mare JOTH
(Magnum Fourty Four x Rimaraa)
Breeder: Mulawa Arabians
Owned by Gary Kehl of GRK Farms
RR RHEA and Brynlee Guimaraes
National Top Ten Mares JOTH
(Brontes FM x Beijings Ruby BHF)
FF SOVEREIGN
National Top Ten 2 year old colt
(Conquest BR x FF Khadraya)
LAHABRIHANNA GRK
National Top Ten Yearling Sweepstakes Filly
(Lahab Albidayer x Hafatianna GRK)
EXXODUS GRK
National Top Ten 2 year old gelding
(Exxalt x FH Jemina)